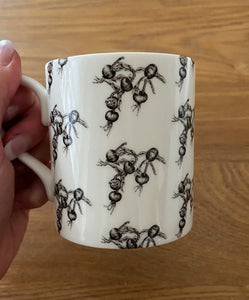 Mix and Match ANY 2 Mugs for £16
This is an original illustration with pen on paper, with a lovely use of layered pen work to create a 3D effect for the Rosehips, it is then put into a gorgeous half drop repeat design.

Size: 8.4cm H x 7.5cm W printed the full length of the mug, the design wont rub and is completely hygienic and dishwasher safe! A gorgeous way to add style and character to any personal space in the home.
These fine bone china mugs are vivid and striking and pleasing to the eye. Bone china is more aesthetically pleasing than other materials, it's more elegant and is naturally strong and has a beautiful glossy finish - even darker printed mugs have a shiny, glossy finish. The non porous surface prevents the build up of brown stains, making it clean and hygienic for everyday use - so stand out from the crowd with these gorgeous mug designs.